Adopt-A-Bike 2013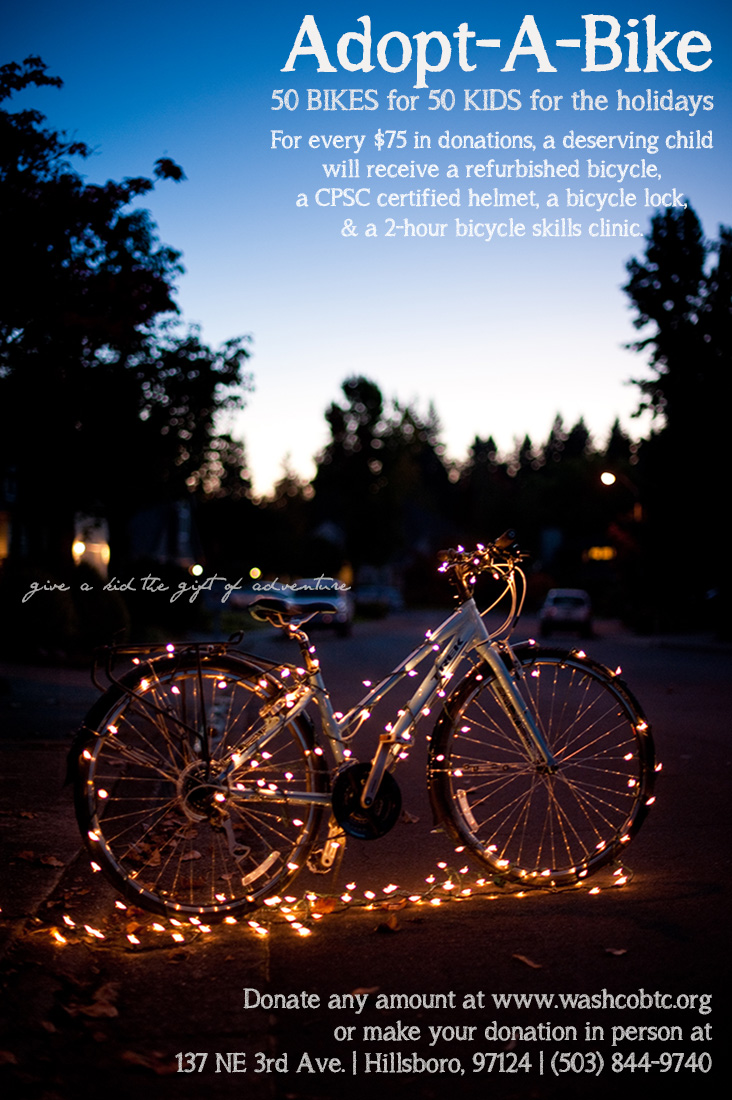 We are also accepting donated kids' bikes to help make sure that every child gets a perfect fit!
Intel Volunteers Lend a Hand
A team of Intel volunteers joined us for the Glonal Volunteer Day on September 20. They came to the shop to help us break down donated bikes for recycling or reuse of the salvageable parts. If you would like to volunteer, reach out to us at volunteer@washcobtc.org. We are particularly interested in volunteers with bike mechanic skills or people interested in an ongoing, personally rewarding opportunity to work in our back office.
Chicas get their ride ready
LCI certified instructors worked with these young women from Adelante Mujeres "Chicas" program on basic bike safety and skills. What's more,

these girls have agreed to attend Saturday classes at Fern Hill Elementary school in Forest Grove where we will have two more classes for the Chica's. This time these girls will be helping the instructors teach. Can you think of a better way to start a leadership program?
Boy Scouts learn cycling skills
As part of our ongoing partnership with Pack 566, we provided instruction for a bicycle skills clinic. Twenty-three Cub Scouts and many of their parents attended. The Scouts brought their own bikes and helmets. Steve made bike adjustments as needed. Our certified cycling instructors (LCI) Steve and Carl showed a few parents how to fit helmets. The skills course was set up by Carl and Steve, then parents were instructed on the expectations associated with each course. The clinic was finalized by a ride through the streets of the Jackson School neighborhood.
Why should you become a member?
Rose Mayer enjoying the new bike that she won in the Spring Membership Drive

The mission of the WashCo BTC is to promote bicycle transportation, protect bicyclists' rights and improve bicycling conditions throughout Washington County, Oregon through education, advocacy and community. In other words, we work to make bicyclists and bicycling better in Washington County. Currently, the WashCo BTC is the only non-profit of its kind purely focused on the needs of Washington County. When you join or renew your membership, you are helping a Washington County focused non-profit organization promote bicycle education and rider empowerment while advocating bicycling interests and supporting events that encourage community participation.